Customer Feedback, Stories, & Testimonials
Be sure to email us your comments and photos for posting on this page! We look forward to updating and posting your feedback and photos!
*********
July 2011
"Bailey" sporting her Birthday Girl cap!
"Bailey has been coming to Chessie for daycare since she was 4 months old. After checking out all of the other facilities in the area it was obvious to us that Chessie's staff and facilities were far more equipped to deal with doggie daycare. We all love the staff at Chessie and wouldn't think of trusting our baby with anyone else. Chessie's staff treat Bailey like she's part of their family."
Tammy G. & Dawn L., Hollywood, MD
*********
July 2011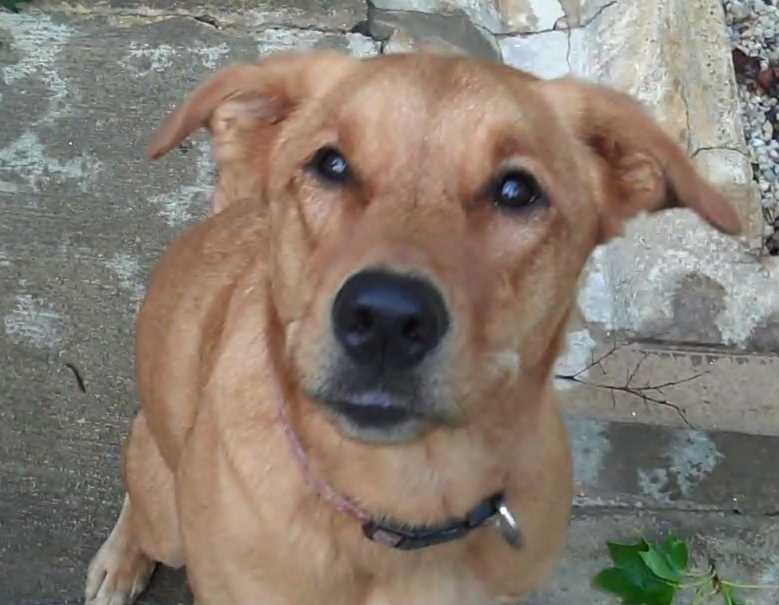 "Maggie" asking for a treat!
"I like that you take the time to get to know my pet and seem to enjoy her...she isn't just a dog...or cat...being left to be maintained until I return. The kennel is fun, clean and comfortable for her...we frequently wonder if Maggie wants to come home...the staff is friendly, accommodating and professional. I like the kennel itself...layout and the feeling that you get when you pull up to it...it's like pulling up to a home rather than a facility...a home that obviously loves pets and the people they own."
Kay and Jim L., Leonardtown, MD
*********
July 2011
"Bailey" supervising the big play yard daycare group!
"The very best is how you treat Bailey as evidenced by how he always wants to go right back in when I come pick him up. I also love how flexible you are in making arrangements...I remember the time that you were really busy but made room for Bailey to come for the day and had him hang out in the office. He loved that."
Sherry and Mike C., Lexington Park, MD
*********
July 2011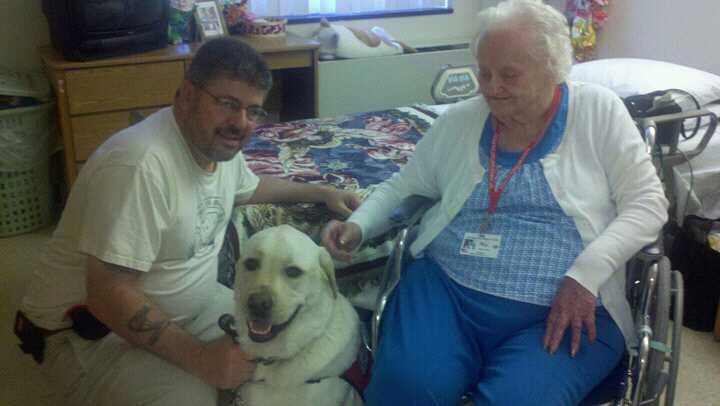 "Rex" visiting the Veteran's home doing what he does best...giving love!
"It warms my heart to watch Rex's excitement build the closer we get to Chessiepets. He adores the staff and all the friends he has made there during his daycare and lodging visits. It's a wonderful feeling to leave our best friend in such good hands; although, sometimes I think he would choose to stay at Chessiepets permanently if given the choice. Thank you everyone at Chessiepets for treating Rex like he is part of your family and taking such great care of him."
Julie and Jim B. Hollywood, MD
*********
October 2010
"Presley passed away peacefully on October 8th. She was 14 years old, and this past year, she showed her age-loss of hearing, arthritis, slowing down....I want to thak you for welcoming her to the Pet Resort. Everyone seemed so happy to see her. You even provided extra bedding for her and comfort during thunderstorms. Again, thank you for treating Presley as one of the family."
Jane I., Hollywood, MD
*********
July 2010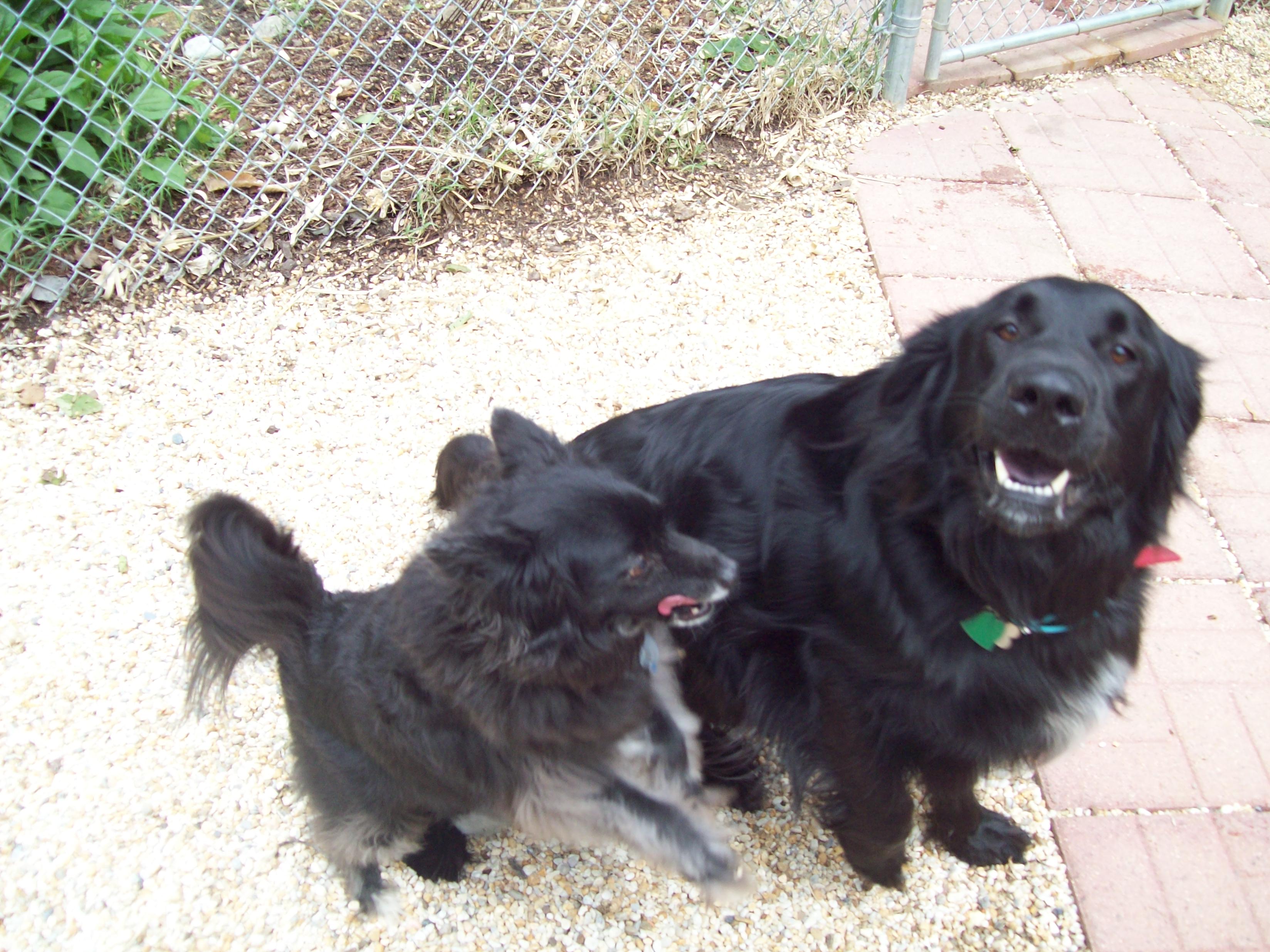 "Weasel & Bettis"...Chessiepets VIP's!
..."Our most sincere thanks to you for the contribution to the Gift of Trees in memory of our beloved Weasel. We received a very nice certificate from Maryland DNR Tree-Mendous Maryland Program. It was very touching and thoughtful of you to memorialize Weasel with a living gift that will benefit the environment as well as contribute to the beautification of our great State. You are a great business that operates like family as well as treating your customers like family. You truly provide customized service to meet the needs of your customers...We appreciate that you did this and all that you do in your work."
Dan and Barbara S., LaPlata, MD
*********
March 2010
"We received the glass ornament in memory of our dog Spencer. It was BEAUTIFUL! He was a big part of our family and really is forever in our hearts and thoughts. We enjoyed the Resort and we always knew that Spencer was in good hands in our absence - downright spoiled! Being away from your family can be traumatic, probably more for us humans than dogs, and you with your staff comforted us by providing a vacation experience for our dog. He came home HAPPY. Someday, we hope to visit you again with our new pet addition. For now, we are a pet free family, but I know our 3 children will not allow us to be fur-free for long :) Thank you so much for thinking of us."
Clarissa and Tom L., Leonardtown, MD
*********
August 2008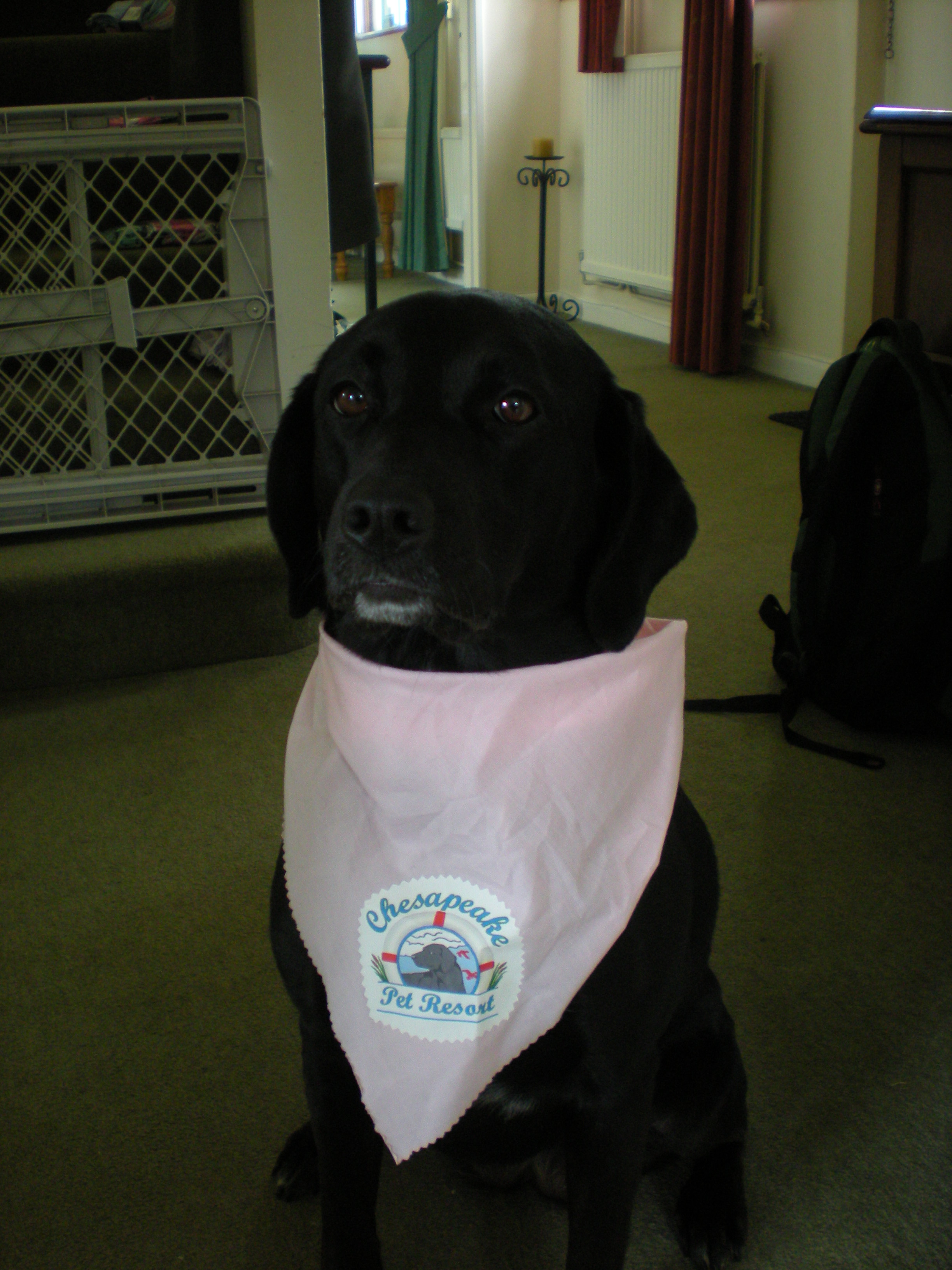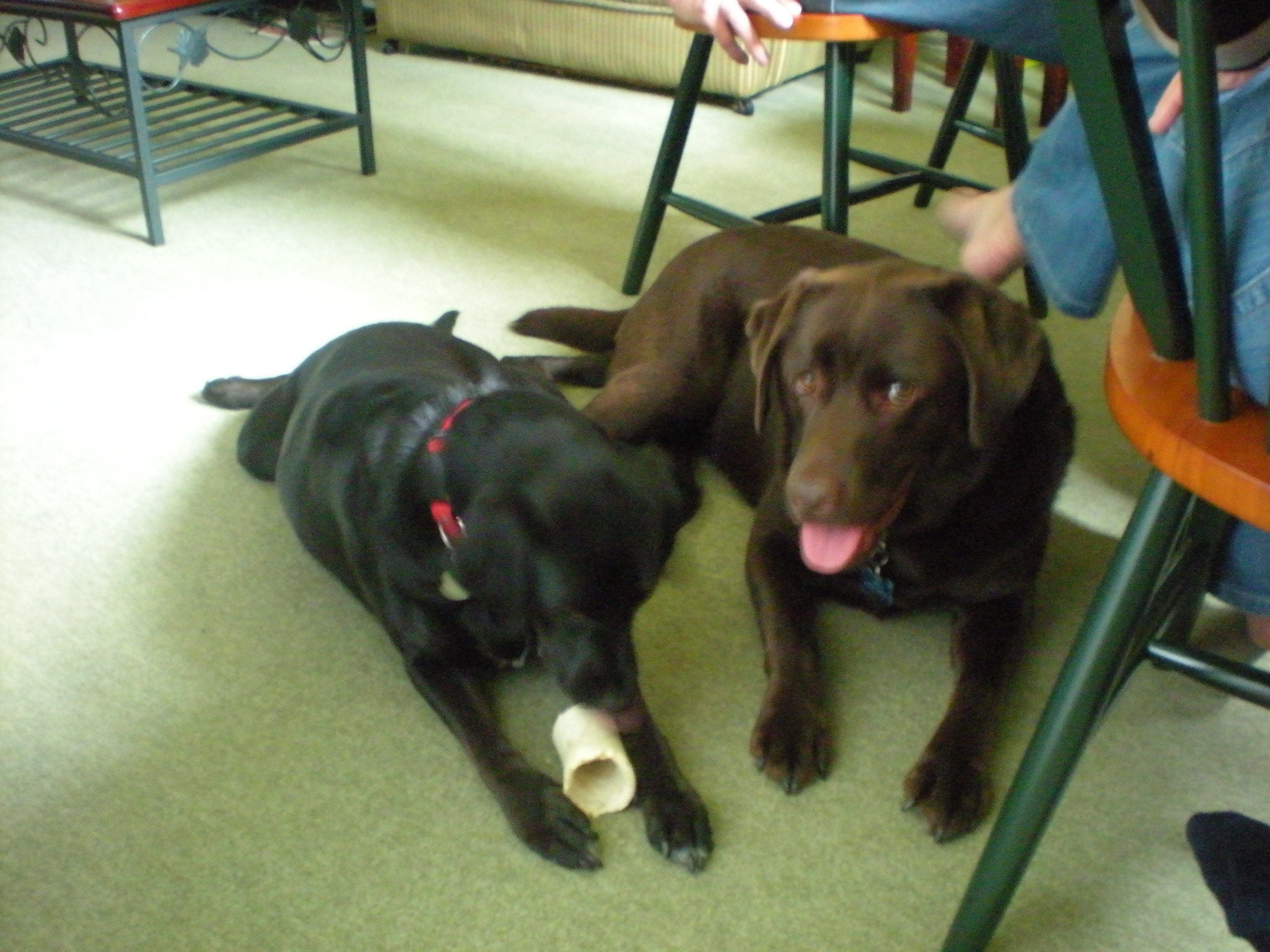 "Bonnie" and "Bonnie & Rolo"...our International Fan Club Leaders
"Just a quick e-mail to let you know Bonnie and I made it back to the UK in one piece. We also had...Rolo stay over last night so here are a couple of photos for you. Thanks to you and everyone at Chesapeake Pet Resort for looking after Bonnie so well - don't think we are going to find anything quite like your place over in the UK though!"
Kevin and Kay, B., United Kingdom
**********
July 2008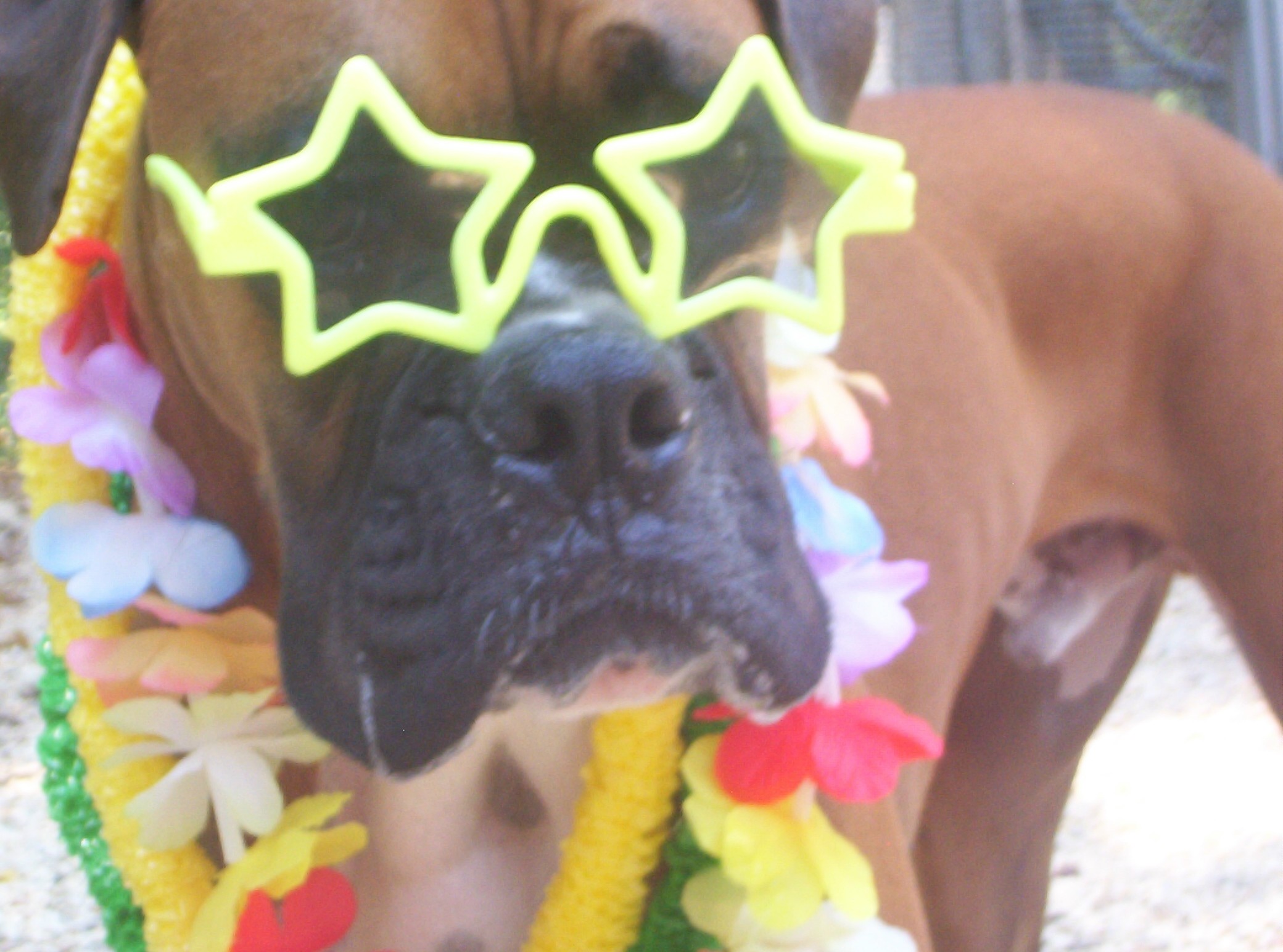 "Max"....Need we say more!
Thank you. Thank you very much for taking such wonderful care of me while Mom was on vacation, Thanks again, Max
Kay Ann P., Bushwood, MD
*********
March 2008
"Thank you so very much for Booker's going away gift bag - that was so very thoughtful of you! Thank you also for always keeping him safe & allowing us to be worry free while he is away from us. We hope you all enjoy the Easter basket. We will miss you!"
Kathy & Larry M., & "Booker", Solomons, MD
*********
November 2006
"I wanted to thank you so much for taking such good care of Cooper. It made me feel good that he acted like he didn't want to leave when I picked him up. You definitely have his "Paw of Approval.""
Marty C., Hollywood, MD
*********
December 2005 (one of our valued Military Families that transferred out of the area)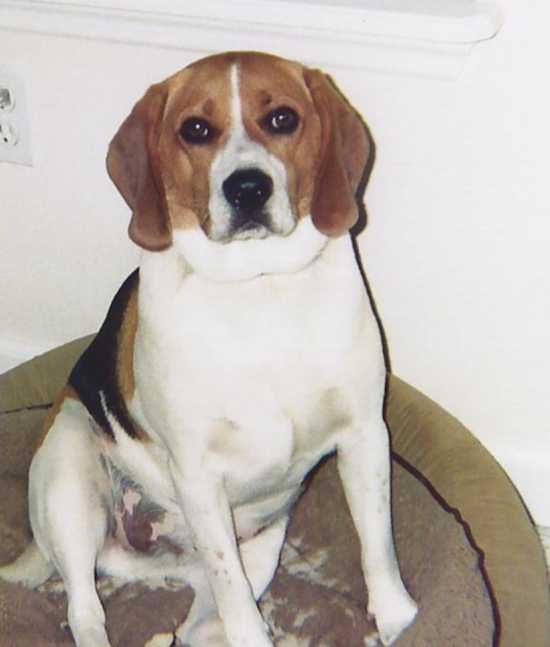 "Andy"
"I sure miss you guys and we will miss spending Christmas with you! I love FL though and my new fenced backyard is wonderful. My new doctor says I'm overweight so I'm on a diet now. That's no fun!"
Love, Andy (the Beagle)
"We sure miss you guys!! Thank you so much for the wonderful going away bag you gave Andy!...Hope everyone has a great Christmas and Happy New Year!"
Valerie B. (Andy's Mom), Florida
**********
December 2005
"I had lots of fun on my vacation at your Kennel. You were all very nice to me and kept my family very informed. I have been to 5 different kennels in Maryland and yours is my favorite! You are the friendliest staff I have ever met. That was so nice of you to let me look out the window on a rainy day and move me for a better view! Also, I love my new stuffed fish. What a treat that overnight bag was. My family is happy that I am happy. They always have a hard time leaving me. I guess because I am such a great pet! Thanks again for everything. I look forward to coming back. Fondly, Ranger "
"Ranger", and his family Carol & David, B., St. Leonard, MD
*********
January 2004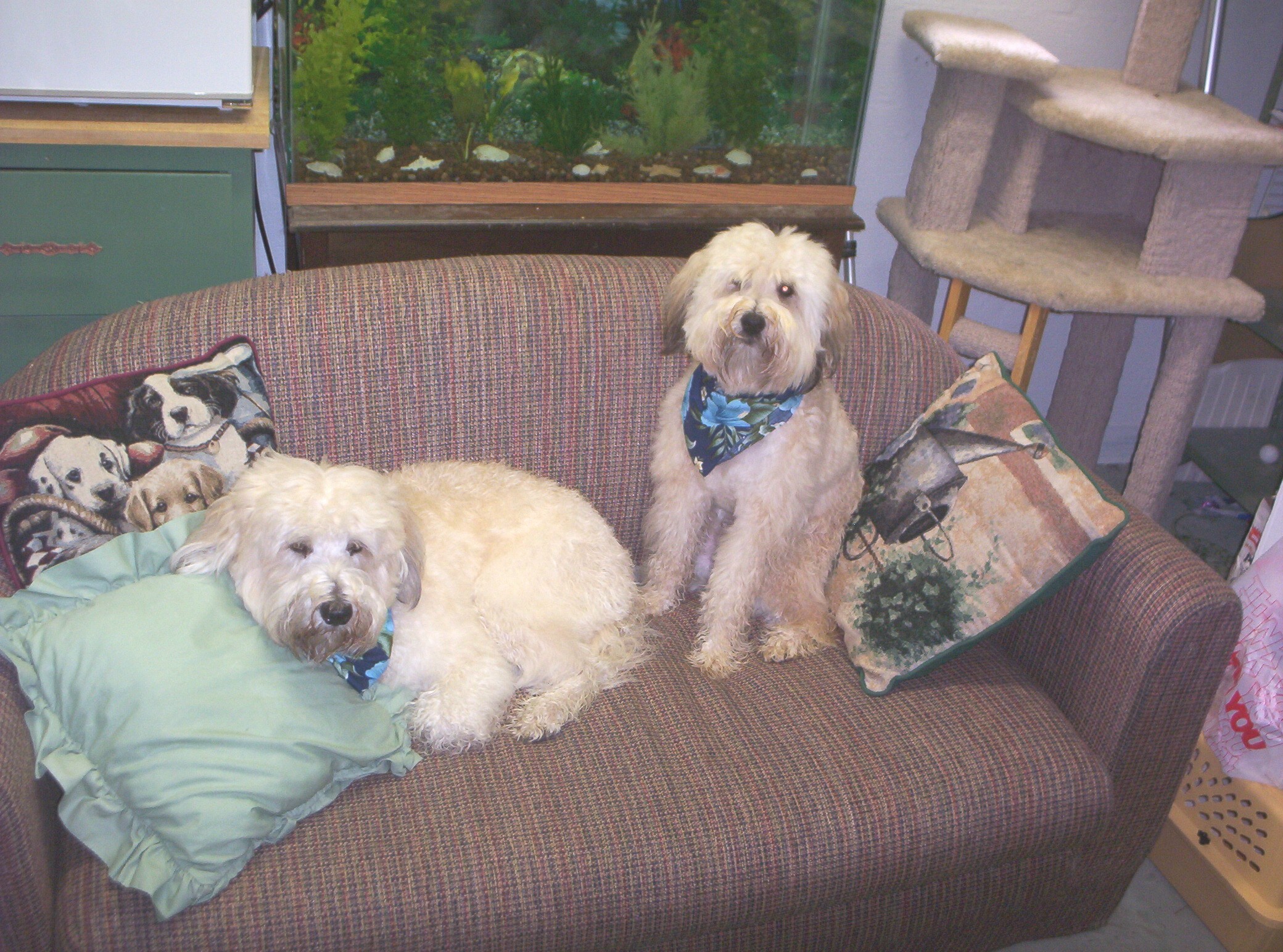 When my wife and I recently brought a Soft-Coated Wheaten Terrier puppy from Canada to our home in Leonardtown, we faced the usual needs for a veterinarian and other care-givers and services. Most were easily located, and the quality of their services are excellent.
But one need arose which we had not anticipated. We make frequent trips to Washington and vicinity, and we needed a place to leave our healthy, frisky dog (named Gaston for a late friend in France) for a day where he would be well-treated (nothing short of wonderfully treated would do, of course) during our absences.
At the recommendation of a local pet store operator, we discovered the Chesapeake Pet Resort on Jones Wharf Road, in Hollywood. It has been a great find for us in every way - and we've learned it is increasingly meeting the needs of others in St. Mary's County as well.
Owner Susan and her helpers have created a facility that is clean and friendly for the dogs. She treats each pet as if it were her own (and she has three of those on the premises). The heated pens are of generous size, and there are runs for all the pets who come for the day. The facility is open at very conveneint hours for those who need to "park" the dog in a very pleasant and convivial atmosphere.
Gaston lets us know in the car that he knows when he's getting close to the Pet Resort. He bounds out with great enthusiasm and welcomes his return every time. There's no better recommendation, and he loves each of the new friends he has made there. For us, the Pet Resort is not just a new discovery, but a Godsend.
Robert M. Smalley, U.S. Ambassador (retired)